Commercial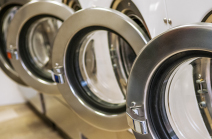 Direct laundry commercial services understands that most companies have specific laundry needs that just can't be properly served by big commercial laundry providers.
We are dedicated to customer service and quality of workmanship. Our highly trained staff and management team will do everything possible to give you the specific laundry service your business or organization requires. Since our inception in 2008 Direct Laundry has expanded to serving over 50 commercial clients from different industries and locations.
We follow specific procedures and requirements for handling different types of laundry including towels, sheets, linens, uniforms, personal resident laundry, and more. Our equipment and experience allow us to provide quality service for every laundry need. Contact Direct Laundry for a free consultation and to set up a laundry plan that best serves you. Our health club laundry includes folding and filling your towel racks. We can supply laundry bags and hampers to make collection easy.
We have several attractive packages for gyms, spas, and health clubs. Custom made detergents to remove oils and lotions. Able to process last-minute requests and quick turnaround. We can visit your establishment daily or weekly. We create custom schedules and offer same day service. We keep you fully stocked with clean linens at all times. Dedicated staff/management and professional customer service. We clean tablecloths, napkins, aprons, and kitchen linens.
Our process ensures your linens will be returned stain and wrinkle-free. Special washing and folding instructions can be requested.