About Us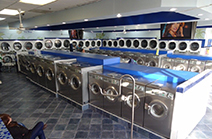 Direct laundry specializes in laundry and dry cleaning services throughout Northern New Jersey, specifically Hoboken and Jersey City.
Our state-­of-­the-­art equipment and highly trained staff ensure your garments will be looked after by the best in the industry. Our knowledgeable and professional customer service and delivery drivers, are here to answer all of your questions and concerns.
Direct Laundry understands that your time and garments are valuable, and we're here to save you time and money. Be smart about who processes your laundry. Go direct with us! "Personal Laundry Service" also known as wash and fold is what we take pride in most. From the moment of pick up, your garments are treated with care. At our facility, trained professionals will meticulously sort out and separate every single piece of clothing. We use the proper chemicals, measurements, and temperatures to ensure optimal results.
We also have high capacity washers and dryers. We have the ability to properly clean comforters, rugs, couch covers, etc. With over 10 years of experience, Direct Laundry simply provides the best laundry experience available for residents and businesses while saving you time and money!
Lights, darks, whites, and delicates are all washed separately. Your clothes are dried at precise temperatures. All of our chemicals are Eco­friendly and sensitive on your skin. Garments are stacked and packed separately. All work is done on our premises. Custom wash formulas. Free on-time pickups and deliveries. Quality control inspections and excellent customer service.